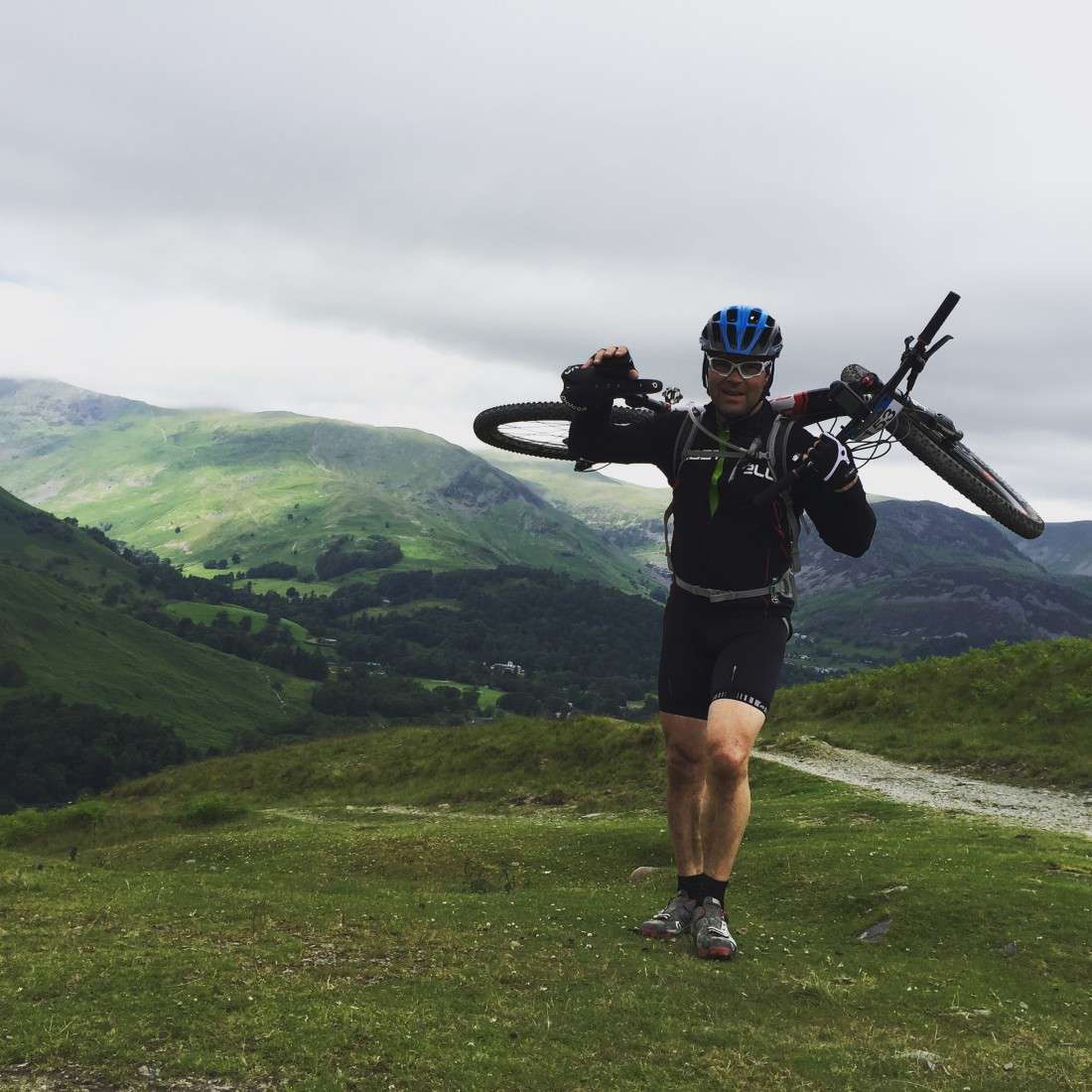 The Crossing 2015
We nailed every climb… Well almost!
The crossing 2015  "Adventure By Bike"
I thought we had a Greek taxi driver!
This guy was on a mission to get us to Whitehaven for the annual road trip my very good friend Hans Kruger and I would tackle ie "the crossing" for a second year.
The bags were in the boot and the bikes in the vito van the only problem was, you need to shut the boot before you set off. Fortunately hawk eyes here spotted the open boot before we set off.
The near miss with the elderly man on a disability scooter was a very close call also. I was left wondering what incident number three would be. Lucky for us it remained at two.
The journey to Whitehaven was very long but scenic nevertheless.
Registration was completed and a quick hello to Matti, Neal and Callum who were also doing the crossing.
Time for some food so off to the Casa Romana to fill our bellies with pasta.
Day 1 Whitehaven to Shap
It wasn't to be an early start as the time had changed to 7am rather than 6am so we were glad for the extra hour in bed.
The sky was grey and it was a bit chilly. Hans wasn't impressed, as he does love the warm weather.
There was a different feel about the event this year as the numbers were lower with approximately 280 riders compared to 450 last year. It's not exactly cheap at over 370 pounds per entry and for that you only get food at one pit stop and your luggage transported for you.
We set off just after 7am and it was steady for the first 15 miles then you are faced with your first off road climb. Now my challenge for this year was to clear the climbs without dabbing or pushing.
The old coach road climb after Keswick was cleared with no pushing I felt great. We dropped into Glenridding for the backbreaking climb over Patterdale Pass. I was glad to get that over and done with. The descent was just as tricky as before and Hans used his head not to ride it this time and avoided any damage to his bike.
The weather wasn't as hot as last year or the year before but nevertheless it was still very nice. I started to feel tired about 10 miles from the end of this 68 mile epic ride. I was dehydrated, obviously not enough fluid but managed to crawl to the finish line of Day 1.
68 miles 7500 feet of climbing.
Day 2 Shap to Northalllerton
Shap is a place where there's not much happening, but our overnight stay was ok although we would have preferred a room round the back rather than on the main road. A good breakfast was had and a few adjustments to my saddle were required as I felt like too much stretch on the left leg and it felt very sore. Amazing how getting the saddle height wrong by a few cm can cause a problem.
The climb out of Shap is steady, nothing major until the first off-road climb on the moors. We both cleared this and were really getting warmed up as others were pushing.
As we approached the biggest climb of the day out of Nateby it was a killer 2 miles and a 1,000 feet of climbing. This led us to Richmond and the fabulous welcome to North Yorkshire sign. After this it was all down hill until the last major climb before the pit stop. We both cleared this with no pushing and were extremely pleased with ourselves and so were our comrades who found it impressive that we could climb the killer off road section.
I was ready for the pit stop to refuel as I was starving having burnt 2,000 calories.
The next 30 miles were relatively straightforward where Hans and me would yoyo on the final push to the end of Day 2.
68 miles 4,500 feet
Day 3 Northallerton to Scarborough
The morning of day 3 and Northallerton had the signs of some nice weather. It felt warm at 7am and after briefly wishing Matti from IOM good luck we waited for Neil who had kindly offered us a lift to the start line.
We both felt great and were ready for the next 60 miles of off-road MTB to Scarborough. I think the final leg of this epic journey is the best of the 3 days it has everything a mountain biker could wish for. Single track plenty of it, fire roads, descents, moorland crossings and not much road.
We loved our last day of the crossing the sun was shining and we felt great, as we had cleared all the climbs that were physically possible without carrying.
This is my 3rd year doing the event and probably the best one yet. I've enjoyed every minute riding with Hans Kruger the Norwegian strongman who even after suffering from pneumonia came out and did this event without any problems so great work Hans I'm very proud of you amigo.
I would like to do the Crossing again but only if it's over 2 days as that would be a tough challenge for 2016 so come on Ratrace let's make this happen as I'm sure you would get more of the top endurance riders doing it especially if there was prize money involved.
Next year, I will also be doing #rumbleInTheJungle with yakattack in Sri Lanka June 2016.
60 miles 5,500 feet
198 miles 18,000 feet over 3 days
Keep on riding
TheIndianFireTrail