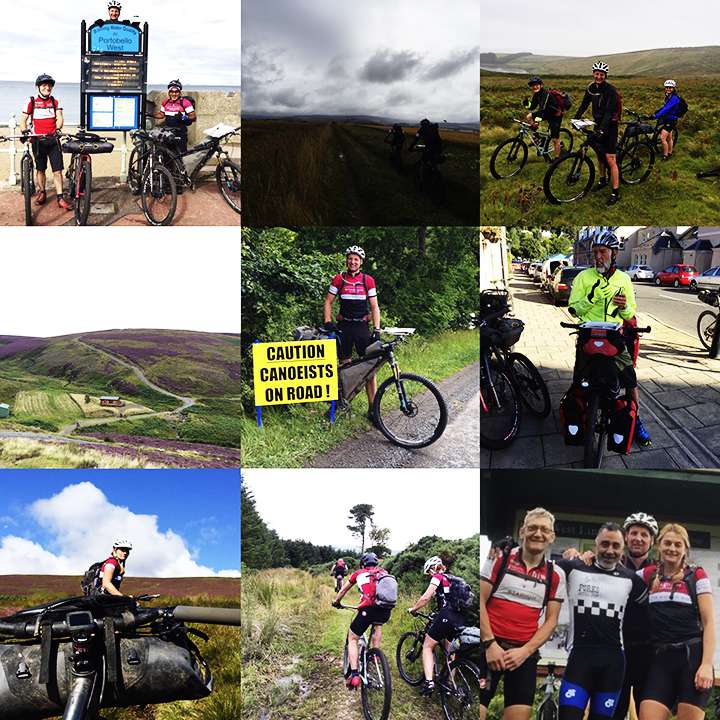 The Capital Trail with a 'small c'
"3 Men And A Lady Ride The Capital Trail!!!! 
I was on my own as the light started to fade and the fabulous purple hues of the Ling Scottish Heather was a sight to be seen.  I didn't care that I was solo, it's the way I do my riding most of the time – a lone rider – single – just me out there in a wide open space deep in my thoughts whatever they may be. I'm drifting away in the stunning Scottish Borders nothing in front of me just the landscape that appears to have no end. However, there will be an end as I'm on the Capital Trail loop having heard so much about it from Markus Stitz "The Genius Trailmaker" and round the world singlespeeder. I know from the off set from West Linton that Markus has created something very special and over the next couple of days I will get to experience the magic of the Capital Trail.
Stadium Riders led by Saul Muldoon who himself is a "Trailmaker" and an awesome mountain biker would lead Andrew, Sal and myself around the Capital Trail as he had ridden it this year at the official start date in June and a remarkable time of less than 20 hours was recorded. We would be self-supported as there wouldn't be any marshals, no pit stops or a wagon of shame. It was a case of ride it and finish it.
I'm not going into every bit of detail about the ride I'll leave Saul to do that in his write up on facebook. All I know is that I enjoyed every mile, every minute and except having a mini meltdown at Melrose as we were unable to climb the 3 Brethrens due to time and light fading fast, it was an amazing trip and anyone who knows me will know how passionate I am about the things I love… I rode into Innerleithen from the morning I'd left Musselburgh with the trails being a mountain bikers dream.
Sunday morning would be blue sky and warm August sunshine so we were up and packed and headed into Innerleithen to meet Sal at the Coffee House, where a cappuccino was consumed and the last 50 miles had to be ridden. The ride out is a big climb and the only hike a bike part of the whole loop.
Innerleithen to West Linton
Some rides should never end and today the final 50 miles of mixed terrain would be classic mountain bike trails consisting of drove roads, forested singletrack, quiet country lanes, grassy fields and a trail centre.
I was on my own most of the time at the back taking pictures and riding at my own pace, after all this wasn't a race and I wanted to squeeze out every last mile and make it last as there are so many highlights on this trail. Gypsy Glen route, which is the connection between Traquair and Peebles, Lammer Law, on a clear day the Lammermuir Hills and my favourite was Innerleithen to West Linton some of the best riding I've done since Sri Lanka.
So a big thank you to my riding pals Saul, Andrew and Sal – the "SAS" team but most of all Markus Stitz who has created probably one of the best bike-packing trails out there. So, if it's mountain biking you love then go out there and ride the Capital Trail over a few days and you won't be disappointed that's for sure.
Kit used
Van Nic Zion Geared running Eagle but unable to use Eagle 🙁
Apidura Bar Bag, Wildcat Bag