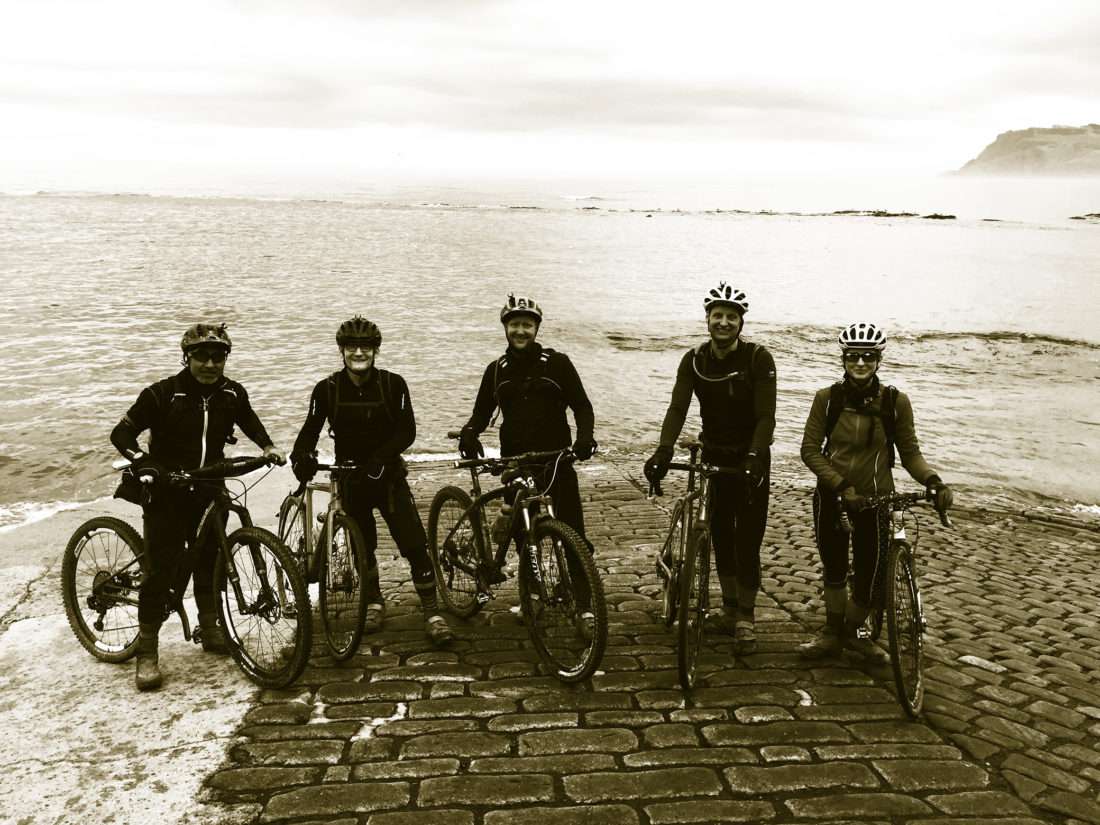 #Moor2Sea 12.3.17
Cold and wet Winter from November until the end of February, not enough daylight and riding a fat bike single speed is the sort of thing I liked to put my body through.
I needed a long ride out on the moors and when Saul "Single Speed" Muldoon mentioned a trip to do an event entitled Moor 2 Sea starting at Pickering, I was the first to bag a place in his van.
Stadium Riders had rode it last year but from all accounts the conditions were horrendous being near Baltic and hypothermic.
Leaving Halifax at 7am is a touch early but we made good progress aiming to reach Pickering before 8.30am and to be in the saddle for 9am.
Easy road miles would take us to Dalby, where we would ride past the bike café and Go Ape, signaling the start of the red route. It was great to be back in Dalby having not been there for a few years. I love riding the red route with its natural flowing nature. It's fast and not that techy. However, today wasn't going to be a day in Dalby as we had some serious cycling to do and needed to press on to reach Robin Hood's Bay via the North Yorkshire Moors that would be more or less halfway and a place for refreshments.
Saul, Claire, Andrew, Ian and myself are keen cyclists and love anything remotely off-road. This route had very little road so it ticked the box straight away.
It was a grey start but the temperature and weather improved within a couple of hours of riding and we had stripped off to short sleeves as it felt like spring.
The riding conditions were perfect and like-minded people loving riding their bikes as if they were kids again surrounded me.
It was pretty much up and down but nothing too severe as we were approaching Robin Hood's Bay. There is a really fast trail called the Cinder Track and it covers the mileage into the Bay very quickly, which was a good thing because I was ready for lunch.
The road into the bay was steep and a decent pair of brakes was required. Claire opted to walk due to her front brake playing up. I rode down steadily with her while the rest of the stadium riders found a place to eat. The Old Pie Shop was now the Old bakery. The menu was limited but the food was tasty and the service excellent. Andrew quickly made friends with the owner and may have even swapped numbers J.
It was now just after 2pm and time to make a move as we still had approximately 37 miles to go with a couple of chunky climbs. The first was the climb out of Robin Hood's Bay after our photo by the sea.
A granny gear was required for the climb out of the Bay and a mother was heard shouting at her kids "watch the bike!!!!" – not sure they would have been in any danger as my speed was probably around 3mph.
We were back on the fast Cinder track with the sea to our left and we would cover another 15-18 miles very quickly pausing for moments to take in the view and in my case a wee stop.
We reached the end of the track and headed into the forest with a fairly steep muddy climb. I felt my legs turn to jelly, as the soup I had had was clearly not enough to get me round. Fortunately I had a sachet of John West Creations, which consisted of Salmon with Giant Couscous and Lentils – 1,200 calories were soon consumed and I was back on top form. As the trails leveled out Saul and I noticed that nobody was behind us so we turned back only to find Andrew with his rear mech arm broken. Saul and Andrew tried to do a temporary fix by single speeding it but this didn't work so after an hour of downtime we said goodbye to Andrew who made his way to the nearest pub at West Ayton where he called a taxi back to Pickering.
Andrew missed the muddiest, the hilliest and the fastest part of the ride.
Probably the best bits Andrew J
After the hilliest section I needed another sachet of John West and was soon feeling great again.
The final descent was amazing and seemed to go on forever. This would take us to Dalby where the trails through the forest were gravel and passing the bike barn on our right felt like we were nearly back to Pickering.
We only had 2 miles to go and I rode with Ian who had been great company for most of the ride as the mountain bikers rode together and the gravel bikes sped off on the road getting back to the van before dark.
This had been another unbelievable day out on the bike. The weather, trails, food, scenery and most of all the company.
A big thank you to Saul for the planning and leadership, which is second to none.
I just can't wait to do it all again.
Moor 2 Sea loop
Pickering – Robin Hoods Bay –Pickering
Bike used: Salsa Spearfish 29er Full Suss geared 32-50t sram Eagle
Forks: RS1
Wheels: Sram Rise
It's definitely a route for the gravel bikes but still enjoyable on the mountain bike albeit a bit slower.