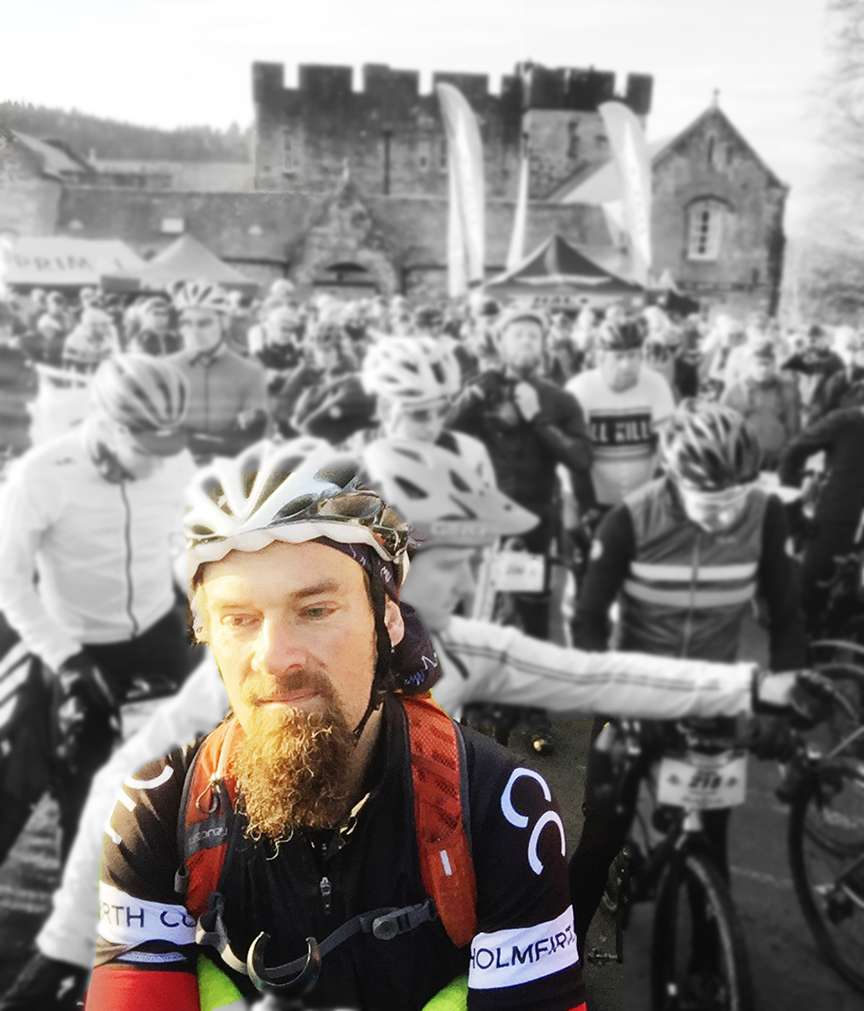 Life is better on a mountain bike….Dirty Reiver 2017 #Gravel
I just want a cup of tea with sugar in it…. This was my thought as I approached 160km my legs were tired – my mouth was dry and I had that sickly feeling of not having consumed enough at the food stops.
The DirtyReiver 200 or Dirty 130 is certainly a challenging day both mentally and physically –
The all gravel terrain keeps you focused on the descents and any loss of concentration would soon have you skidding off the bike as was proven by my fellow cyclists.
This would be the second year for the DirtyReiver and my second time entering the event too and I was determined to better my time of 13 hours in 2016.
The Stadium Riders squad consisted of Saul, Ed, Andrew, Claire, Stephen, Ian, Travs and myself.
The event was spilt into 2 this year with a 130km and a 200km – Stephen, Ian and Travs would be doing the 130km – as it was their first time, while the others would tackle the 200km again hoping to improve on last year's times.
Even though its not a race the faster riders are racing and they are off like a shot averaging 17mph on Gravel – I believe they took a wrong turn at the beginning so the pace got even faster as they got back on route. Rich Rothwell chained dropped several times and Martin Graham punctured which set them both back.
For me it was a personal battle not to bonk and keep fueling to keep turning the pedals and the miles out.
At the start line there was a nice speech from Rory Hitchens that mentioned the legend endurance rider Mike Hall and you could feel a sense of silence and respect around Keilder Castle as some nice words about Mike were spoken.
We all set off in groups and we were soon at the timer officially starting my time around 7.10am – the climbs started early on with loose gravel and we soon get into a rhythm. Claire, Saul and Andrew soon passed me and Ed had already shot off so I didn't see Saul, Andrew or Ed again until the end.
The DirtyReiver is a long day in the saddle and as I approached the 100km feed stop I felt fine it was great to be there in less than 5 hours and I knew that by keeping this pace I could finish quicker than last year.
As the KM went by I felt myself slowing down and needed to stop and eat so I did at 120km and the energy returned but only in short 10km bursts.
As I approached the 130km and 200km split there was no doubt in my mind that the 200km was the only turning for me and that my energy would return – the route along the gravel would have us returning back to the castle. I looked at my Garmin and it read 126k we passed Saul's van and said a hello to Martin Graham who last year was a HatefulEight, but through mechanicals he was resigned to doing the 130km.
The Forest Drive climb is never ending but does eventually reward you with a really long descent.
The weather was warm my arm warmers were down to my wrists and my fingerless gloves were on.
There was definitely a summer feel to the mild air and those dressed in winter clothing must have been baking and kicking themselves.
As I approached the final feed station I knew I needed to refuel for the final 50km but what I know and what I do are two different things so after a quick coffee and some rice and salmon I met Claire who was suffering with her back – I said you only have 50km to go and so I pressed on. The climbs continued out of the final feed and I got slower feeling it now and stopping more often.
Claire passed me as I took a comfort break and I watched her cycle off over the hill and into the distance.
I booted up my phone to listen to some music and "I'm Alive" by Sia blasted through the headphones giving me a lift and something else to focus on.
Once you reach Keilder Water don't be fooled into thinking that you are nearly home as the trail from here takes you up and down through the forest and along the water. The final stretch of road is a blessing after all that gravel and a blast through the forest brings you to the last climb and to the finish where I was greeted by the stadium riders and DirtyReiver crew. What a great sight that was.
The Stadium Riders had turned in some impressive times – Ed coming in second overall and first Stadium rider was very impressive with a superb time of 7.34 – Saul 8.37 – Andrew 9.57 – Claire 11.39 San 11.48
Another fantastic experience out there, doing a 200km gravel race where I was under 12 hours in the saddle having returned back at 7pm after setting off at 7.10am.
This was an epic day one that I have thoroughly enjoyed again – the trails – the banter – the weather all make this into a bucket list ride – 130km or 200km your choice left or right – either way it's a tough one and one that you will never forget.
So thats my second time taking part and completing the event on two different bikes Gravel and Mountain so what will i ride next year –
give you one guess.
See ya next year!