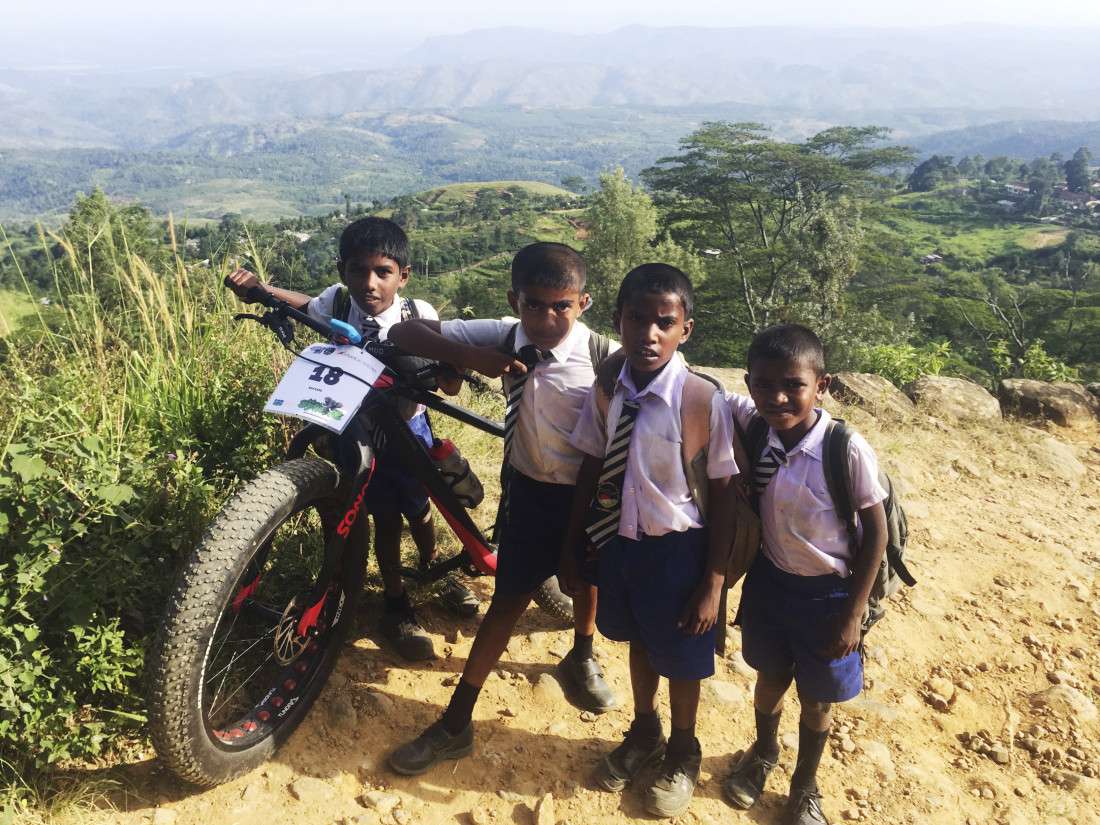 Blood, Sweat, and Fatbike tears…Rumble In The Jungle a 4-Day Stage Race through Sri Lanka….
Friday 10th June 6.15am
Day 1 of 9
The rain lashed down as I made my way to Liverpool airport to pick up my friend Mathew John Mathieson-Nelson, aka Matty, from the Isle of Man. He would be joining me on my next mtb adventure. After a week of nice, dry, warm weather the heavens had opened and fog had descended unfortunately delaying Matty's flight.
I'd already reached the airport so I made my way to Starbucks for a hit of caffeine, sat back and waited for his call. The plan was to wait until 9.30am and then I would head back and fly from Leeds/Bradford airport and he would catch a train and meet me at Heathrow. The delay looked like 3 hours at the IOM, not a good start. 
My coffee going cold with all the waiting the music more suited to a supermarket but at least the Wi-Fi was spot on at Starbucks.
I made my way to arrivals at Liverpool and decided to wait for my mate as his flight was now scheduled to land at 11.30am so rather than just him missing the Leeds Bradford flight to Heathrow we might as well miss it together #brothersinarms #all4oneandoneforAll.
The cost was actually cheaper to go to Heathrow by taxi with our bikes and bags, than fly with British Airways who are rip off merchants when it comes to checking in luggage and whose online check in service system is appalling and hadn't been working properly the previous night. #Hindsight is a wonderful thing and next time it will be a taxi to Heathrow.
Anyway, after waiting for Matty's delayed flight to arrive I got told that he wouldn't be landing as the easy jet flight had been cancelled.  It was 11.45am and I needed to get my skates on to catch the Leeds/Bradford fight to Heathrow which was due to depart at 14.30. I headed for the airport with Helen who had rushed home from work to give me a lift there. I arrive at the check in desk at around 13.55pm only to find out that the flight had been delayed by 45 minutes so happy days until, the information desk kindly inform me that check in has closed, there are no more flights that afternoon to Heathrow and the evening flight has been cancelled. It soon became clear that they were not going to open the check in desk, as they have to base their protocols on the original due departure time of 14.30pm. We are directed to the Swissport desk for further assistance…it had a "back in 5 minutes" sign on the counter. We waited and waited, 5 minutes turned to 10 and 10 turned to 15, a red mist was threatening to descend and my blood was pumping. A decision had to be made as time was running out…Helen to the rescue and a drive to Heathrow Airport ensued. Meanwhile back on the IOM, my friend Matty was flying to Gatwick instead and ironically would possibly get to Terminal 3 at Heathrow before me. 5 hours non-stop in the car (thanks to Mrs K) we arrived at Heathrow with an hour to spare before check in would close and Matty was only 10 minutes behind.
Once we had checked in there was just one last bit of drama, as we now had to open our bike boxes, as they didn't have a scanner. Eyes were raised to the Heavens and several prayers were said….
Finally at 11pm after yet another delay….Sri Lanka here we come….
Day 2 of 9
The eagle has landed at Colombo airport 2pm local time.
Lal the taxi driver picked us up and we make our way dodging Tuk Tuks and people. The 15 minute drive was simple enough although the conversation did get slightly complicated when a horrified Lal, the driver, mistakenly thought Matty needed a Doctor when he was actually asking him where he could find an "adaptor" for both of us.
The Catamaran hotel would be our home for 2 nights and this was where we would register for the event and assemble our bikes.
We heard the news that one of the riders [FritzPman] bike had been broken in transit a carbon Felt 29er so he was on the look out for a replacement. I could feel the heat as we both started to open our bike boxes to see if they were in one piece the sweat was pouring off my head and my t-shirt was drenched. What was it going to be like when we would be racing on Tuesday?
Our bikes were all in one piece so we felt good, especially as the trip hadn't gone to plan early on. We both assembled them as quick as we could and then attended a photo shoot on the beach with enduro mtb magazine http://enduro-mtb.com/en/
We headed out for a quick spin just to see how the legs were feeling. They felt fine. We called off at the shop, which was more like a hut to grab some water, which soon turned into a viewing of the Sonder Vir Fortis Fatbike. Although the guy who was admiring the Fatbike had rather a unique looking bike himself a very old Raleigh with v brakes running single speed and riding in flip flops. Hardcore.
At 7pm we met some of the other riders and made our way to a bar/restaurant to see what was on offer. A 20-minute walk was far enough for food so we slipped into the Rodeo Bar where I had a fab tuna steak.
Very nice food and bar and I would highly recommend the Rodeo Bar.
Time to head back as by now I was exhausted…Day 2 was complete.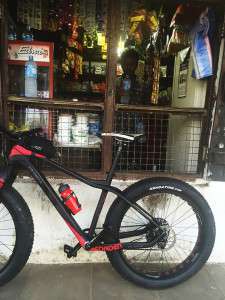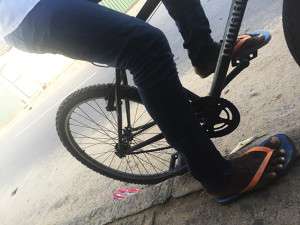 Day 3 of 9
Slept in and I felt great. I got up at 10am walked down to Baccos for breakfast with Matty and then slipped on the Lycra for a spin on the bikes down to Negombo Fish Market. That was an eye opener more fish than you could throw a stick at. We followed the coastline keeping the sea to our right and eventually started to head back. On our return Matty caught his shin on the XTR pedals that cut his leg right open so, to avoid infection, we found a Pharmacy and managed to get it cleaned and bandaged up fortunately it didn't look too deep.
The spin on the bikes had been hot and sweaty and the 5-minute rain shower was welcoming.
We were now back in the room chilling…it was 3pm.
A trip to the coffee bean and tealeaf café where a salmon bagel and cappuccino filled a hole. We bumped into another 3 riders who were from Austria and we had a good chat. They too were looking forward to the race on Tuesday. As we headed back the weather turned and the skies were dark grey but fortunately we didn't have too much rain. We headed for our evening meal to a restaurant called Prego on the main road to Negombo and probably had the best tuna steak ever! Quality food and great decor.
Tomorrow we pack our bikes in the van along with our luggage and head for Kuda Oya, a 6 hour road trip and the start line for the race.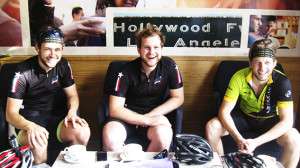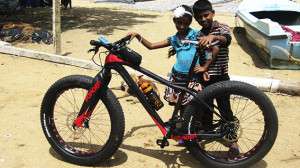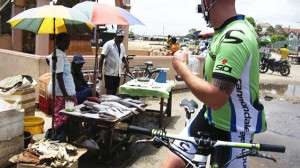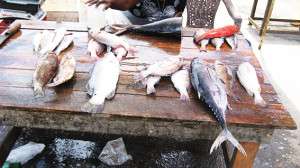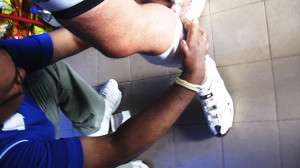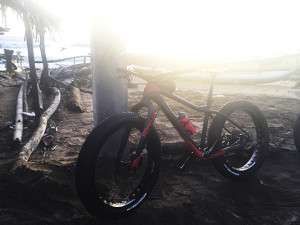 Day 4 of 9
A 6.30am get up. Bikes and bags were loaded into the van and it was time for some breakfast.
The humidity was high and we were sweating just stood talking to one another. It was now 8am and we should be departing. We stood round the entrance of the hotel perspiring profusely and finally we boarded the air-conditioned coach ready to make our way to Kuda Oya.
8.45am and so we departed. 37 riders and support crew in two short wheel based coaches. We exited Negombo fairly quickly and headed east inland towards Kuda Oya. The scenery as expected was beautiful. The high mountains, green valleys and occasional tea plantation. But the highlight of the ride must be the driver who has a death wish but at the same appears like he has total control. What made it worse was Matty and I were sat right at the front of the coach so a head on collision and it would have been lights out. What surprised me was how well looked after the roads were. They've got fewer potholes than Burnley Road haha. We had a quick toilet stop and Jason Miles and I were about to have a cup of tea at the roadside cafe until we saw the water (maybe next time). The journey so far had taken 5 hours and, as yet, we hadn't stopped for Lunch…it was gonna be a long day.
Lunch stop at 2pm and we all piled into the restaurant and some of the rumble in the jungle crew ended up eating someone else's buffet. So we went looking for somewhere else but as we couldn't find anything remotely decent we headed back. On our way Jason and I sampled the coconut juice, which was spot on. The food was eventually made available and consisted mainly of fried rice, vegetables, fish, chicken and potatoes, which actually tasted very nice.
3pm and we were back on the coach heading for Kuda Oya.
After some suicidal driving we finally reached the Wild Safari Hotel, our home for the night.
Time to chill – and have my first cup of tea for days – Ceylon tea amazing brew-
rider briefing at 7pm i.e. Phil Evans talks through the necessary information required. Nothing major, so time for buffet food.
Dinner at the Wild Safari Hotel was brilliant. Excellent foods with eat as much as you like grilled fish, chicken, rice, pasta and vegetables. I have 2 portions, as tomorrow will be a long, long day.
The power went out in the hotel causing mayhem. Back on back off and this would be the rest of the evening.
Day 5 of 9 – Kuda Oya to Heputala
Well that was a lousy nights sleep. Power was on then off and no running water. 6am get up and wash with bottles of water and head down for breakfast, which is plentiful. A couple of slices of toast and bananas and that were Matty and I done. Bag packed and on the yellow bus heading for Kuda Oya the bus driver is a lunatic and he is in on a mission. He probably had it all under control (I hope), as we had not started the race yet.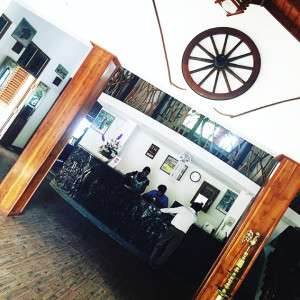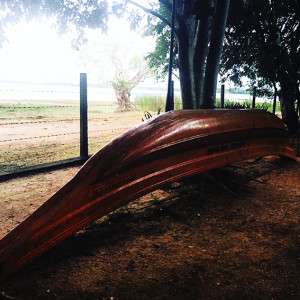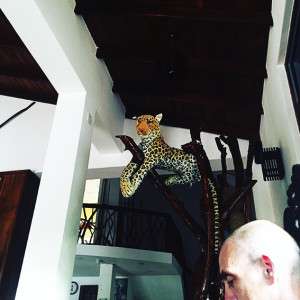 Stage Race Day 1 Kuda Oya to Heputala
"It's a concrete Jungle out there"
Race start and bike was ready 9am on the dot.
Matty was riding his Cannondale Lefty all singing all dancing carbon fly machine and had trained hard for this and was therefore in good shape. I wished him luck as our race numbers were called.
Riders were looking nervous, as it was the unknown for most of us. For me it was a day on the Fatbike a personal challenge and a first for anyone to enter it on a fatbike so this I must do. The riders were in place and in number order I was 18, Matty was 26 and Jason Miles number 5. The countdown from 10 had started and we were off. We rode out on dusty trails that were mainly flat but the pace was fast. I was on my own very quickly but I had the route on my Garmin so I simply chugged along following the dot and arrows where the way had been marked.
The sun was beating down and it was boiling 38c. The humidity was 80% it was going to be a tough day. We went though the first bit of jungle I saw Ben the video man who captured some footage and then disappeared. I ended up getting lost because I hadn't been looking at my Garmin. I was heading for a swamp, obviously not the right route. I tried not to panic but I couldn't see any trails there was no one else around and the Garmin was bleeping like mad. I spotted some elephant poo on the ground, my mouth was suddenly dry, and my heart began to beat faster. Suddenly, I became aware of a loud hissing noise so, trying to move a bit quicker without disturbing whatever it was lurking in the undergrowth I found my way back on course this was however, after I had hit my helmet on a branch nearly knocking myself out "carry on up the jungle" it was a comedy moment.
From here on in it was head down and I tried as hard as I could without burning myself out or dehydrating but that wasn't going to be the case as I was feeling the heat and humidity as the temperature rose to the mid to late thirties humidity was high and I'm cycling in the Sri Lankan jungle. The water crossing in the jungle was knee deep and I didn't want to take any chances of falling in so I pushed/carried the Fatbike across. We had the camera crew all around us at this point, as they wanted to capture a priceless moment.
Once I survived the jungle, the route now became very steep and on concrete/broken road I could feel the rolling resistance on the fatbike tyres so it was a case of grin and bear it. I stopped off at a local shop and as I was really feeling the heat and suffering, I had a cream soda. I continued pushing most of the way up as it was tough going in the heat and it was extremely steep. I had school children as company but we didn't understand each other but the one thing that brought us together was the fatbike. I could here music coming from the hill in front of me and I recognised the tune as the theme from the 1980's television programme "Knight Rider" I finally saw what it was, an ice-cream van – Surreal or what!!!!
I reached the top or what I thought was the top but it was a road crossing that would now take me off road for more climbing and I was followed my some more school children that kept me company. I finally reached the finish line after having been in the saddle for 9 hours. I'm spent with very little recovery time available. All the other riders were back too and suffering in the heat.
Yuki wins stage one in 4hrs 15mins
48 miles, 8,758ft
Stage 2 Haputala to Haputala Loop
"If only I could sit at the top of Lipton Seat with a cup of tea"
Up to Lipton seat, which would be a long road climb riding through fantastic scenery whilst feeling the blistering heat in the process. Having reached the top I took 5 minutes to take some photos and descended part way down the road we had just come up. We went off road and the riding became more interesting. The descents were fast and the Fatbike loved it and wanted more. The heat was too much almost unbearable and I drank as much as my stomach could handle. I used the Nutritionxx that I found worked well to a point. We then descended down a really rocky descent that was a boneshaker and produced a couple of Austrian casualties so it was ride over for them. Earlier on stage one, Mathis had crashed into a Tuk Tuk recording the crash on his GoPro. It was stage race over for the 3 amigos, Tobias, Mathias and Friedrich who will be back in 2017 for some unfinished business. We then climbed up some concrete that quickly turned into rocky tracks, which took us through some amazing forest. I rode with two friends from Germany Felix and Sebastion. We yo-yoed the climb which was long and was thirsty work as one of the riders had ran out of juice so I let him have a gulp of mine. We reached the water stop, an absolute more blessing and then set off again for more singletrack. Seeing all the monkeys was a highlight. Climbing and more climbing on and off road until we reached the strangest track where a Marshall was stood pointing gesturing to us to turn right into some long grass which was basically a downhill section with a very faint line. Underneath the grass there were massive rocks and a drop on the other side where Jason Miles took a tumble but managed to hold on to both bike and rock. Once that was done it was a very long climb on the road back to the hotel.
Ajay wins stage 2
41 miles, 9,333ft
Stage 3 Kalupahana to Nuwara Ellya
"From the dust we came and there we return"
Tired, full of cold and after a lousy night's sleep my throat is killing me but hey ho I just had to get on with it. All the riders were looking tired so I'm glad it wasn't just me. The Fatbike had been tough but enjoyable.
We headed down to a controlled start that was a 20k climb and over 2000m. I chatted to Hannah Barnes who thought I was mad riding the fatty but I informed her that it was for a charity.
The climb was tough with a mixture of concrete and rocky tracks. I handed my backpack to the support vehicle that lightened the load. I looked back and saw Alex and Phil, brothers from South Africa. We climbed a thousand meters we were in the open and the wind was the mother of all winds. I remember looking up and seeing a young girl sat with her younger sister on the wall looking at me gasping for breath. I stopped and smiled and asked if I could take a photo they didn't mind. I went into my pocket and handed them 1,000 rupees (£5 – 2 days wages for the villagers) and tears rolled down her face and my heart was full of joy I pressed on. Riders were off their bikes and barely able to push. My wind proof jacket was in the jeep. My thinking had been that I would be at the back so if I needed it I could quickly get it off the support vehicle. Once we reached the top there was a water stop, I replenished myself there but at that point I was feeling shocking. The path would now take us to Horton plains – a natural nature reserve that cannot be walked or cycled so special permission had been granted to these insane riders wanting to face Horton and the wind. My body was cold and I was shivering. I needed another layer but the jeep was too far behind for me to wait so I persevered. Fortunately another support vehicle turned up and they handed me a t-shirt, which was the best thing I could have hoped for under the circumstances. My body at this point was shaking and I needed to head into the jungle away from the open plains that were forcing me to ride at a snails pace due to the high 70mph winds. I eventually reached shelter in the jungle but couldn't see anyone behind or in front of me so I continued this epic event through the jungle on amazing singletrack. The jungle ended and I was now at the water station. I waited there a while and Philip and Alex were behind me. We rode with each other enjoying the descending on a mixed terrain. I felt myself slowing down and they pressed on ahead so I called off at a shack for a Pepsi and some cheesy cheddars. I sat there a while and gathered my thoughts about what I'd ridden through during the last 2 days and pinched myself thinking "I'm riding a Fatbike (Sonder Vir Fortis by Alpkit) in Sri Lanka". My body was tired and I was full of cold so my progress was laboured. The remainder of the ride was on concrete or Tarmac so it was slow and steady the climbs kept on coming and I kept on going slower until Craig from Adelaide caught me up and helped me through the final 5k to the finish line. Thanks Craig.
It was 6pm, 9 hours in the saddle on Stage 3 and I was broken!!! I headed for the room shivering and jumped into the hot shower I sat there for 30 minutes trying to warm up. I'm not sure how I managed today but I did and kept on turning those pedals with no pushing. 8.30pm and I'm in bed sweating out my fever.
Ajay wins stage 3
42 miles, 11,072ft
Stage 4 Ramboda to Kandy
"Ride like it's your last ride"
I'd sweated through the night hoping to have got rid of most of the cold and sore throat. The alarm call is 6.30am and it was get up, kit on, bags downstairs and breakfast. The breakfast is amazing, fab omelettes, beans etc. etc. even curry if you wanted it.
Everyone was looking tired and grateful that this was only 1000m and about 70k so the fast guys should do that in just over 2 hours. We all wished each other luck for our final day and headed out.
We had a controlled start for about 20k but that soon went pop. As everyone shot off I was at the back on Tarmac with a headwind. After the climbing it was a 15k descent and things were looking better today, as I had got over the worst of my cold. We headed into the tea plantations and small remote villages the climb was awesome technical singletrack in parts and the Sonder Vir Fortis loved it. I was joined by Steve from Wales who loves the yakkattack events having done Nepal and Rumble in the jungle. We rode the remainder of the ride together climbing about 1000 meters and riding into the clouds. The descents were fast and Matty soon found that out as he went over the handlebars and was extremely lucky not to break anything. The Sonder loved descending like no other absorbing everything in its way and I loved the downhill. We stopped to take pictures and took it all in about what most of the 37 riders who started this ride have achieved. I stopped where I could to capture this magical place that is Sri Lanka. I gave what I could to the poor and kept on moving, my heart felt heavy as I saw the people living in very basic houses (pic below) and then I see the wealth that is wasted around the world. There's a water stop along the route and Steve swaps bikes as his Mavic SLR spokes have blown. We captured another magical moment where we were surrounded by local children and Gayan from Sri Lankan Holidays (who is a dead ringer for Denzel Washington) The kids chatted to me and were obsessed with the Fatbike but then who wouldn't be, it's been fault free.
I can see that the Kilometres are getting close to the finish and my adventure/race was going to be over so I slowed a little and pinched myself that I had achieved what was going to be a very tough gig on a Fatbike. The climbs on concrete and Tarmac were slow but the off road descending was just off the scale and beyond words it rolled over objects that made boulders like pebbles.
My body didn't ache, wrist and hands felt good the 4″ tyres were just the job.
I was 1k from the finish line and filming it with the GoPro and crossed the line with Steve in our hearts we had won the race today.
Ajay wins stage 4
44 miles, 5,718ft
Total time: 31hr 31mins.
Total mileage 174+ miles (280+KM)
Total climbing 35,000 +ft (10,000 m)
37 riders started from 15 different countries
5 riders did not finish it due to injury.
We all ride for different reasons and mine was to do something that would push me to the limit and beyond but at the same time completing the event. The Fatbike was my goal that I needed to do, raising money for a great cause (sankapil/justgiving) and as I write this blog I could say I'm happy, I've done it even though it was tough. The bike weighed 14k and my bag must have weighed 6k with spare tube and emergency kit, as the places I cycled through were remote and getting stranded out there would not be something I would want to experience.
I'd like to thank Helen and Leela for there understanding and support and also Breakers and Rob who always believed i could do this.
Phil, Kate, SriLankan Holidays and Sri Lankan airlines have organised a great event route that takes in the best of Sri Lanka its beautiful scenery and probably very few people will ever see as the locations are remote and there are no places for accommodation. The logistics of moving from hotel to hotel is tough which makes this event even more epic. The food in the hotels was average except Kuda Oya and Kandy. Pasta fish and chicken should be a pre- requisite after a tough bike race and massage should be onsite.
Water stops could have something a bit more substantial rather than just bananas and the same flavoured energy gels/bars.
The after race party was hosted by Sri Lankan airlines at the amazing hotel Goldi Sands in Negombo. It was top notch, just how a celebration should be done after a tough stage race.
Sunday morning
7am get up, bags packed, breakfasts eaten and emotional goodbyes said; Matty; Jason and myself are on our way to Colombo airport.
London here we come.
Would I do it again?
Without a doubt
On a Fatbike?
Probably.. YES 🙂
Would you recommend it?
Yes to all fit mountain bikers who ride for at least 7 hours moving time and who can climb over 2,500 metres a day on tough terrain and like it hot.
Best Bit
All of it (98% of it)
Worst bit
top of Horton Plains (ridiculously windy)
Best Day:
Day 2
Fellow riders how were they?
Absolutely spot on I got to talk particularly to Yuki, Jason, Albert, Zoltan, Craig, Ajay, Raj, Paul, Johnny, Hannah, Steve, Alex, Philipp, Eric,  Sebastion, Felix, Mathias, Friedrich and Tobias.
Kit used
Sonder Vir Fortis Carbon Fatbike by Alpkit
Handlebars, Stem. Love Mud
Gears: SRAM GX1 X11 speed 30-42T
Cranks: SRAM
Hubs/Wheels: HALO
Tyres: Kenda 26×4
Tubes: Yes 12-15psi
Brakes: SRAM/Guide/UberBrakePads
Punctures: None
Mechanicals: None
Only 20-30% of brake pad wear
Saddle: Prologue X10
Pedals: Specialised Boomslam Flats
Helmet: Urge Enduro
Gloves: Mavic
Garmin: 510
GoPro, Canon and iPhone for pictures
Five ten shoes
Lycra bibs/jersey: one pair of PedalSport and 3 pairs of Manx100
Oakley: Yellow lenses
3 water bottles carried on back pack for first two days then in the Jersey
Nutrition: Nutritionxx Endurance Powder and Gels. Torq bars and gels. Bananas, peanuts, chia charge flap jack but melted to nothing in the heat and tasted pants.
Rumble In The Jungle 2016 Video Highlights 🙂
More Pics….
Stage 1, 2, 3 and 4 Strava Data