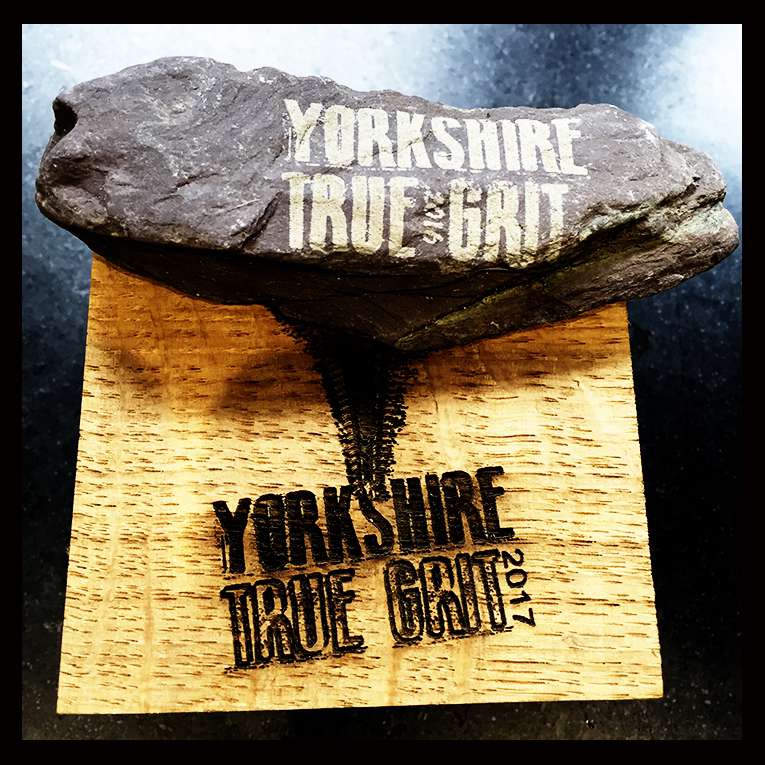 Yorkshire True Grit #SingleSpeedStyle
'If there was a Podium place for the Singlespeed category then I was 3rd' 🙂
A week on from my adventure stage race in Sri Lanka and I was now in a small village in North Yorkshire called Boltby at High Paradise Farm. To my pleasant surprise I met up with Jason Miles who I hadn't seen since Rumble In The Jungle 2016 where he rode a remarkable stage race to take a Podium place. We had a right good catch up chatting about what we had been doing during the last 12 months and we shared our future riding/racing plans. The next guys I met are two very talented local lads called Mitch Jones and Kev Folan, both very handy on a mountain bike and like me would be riding singlespeed for the event. I had a catch up with Brett who I'd met at Dirty Reiver and we discussed the course and had a general chitchat.
As I approached the start line after the rider briefing, I looked around to see who else was riding this event singlespeed and apart from myself, Kev, Mitch and a lad on a retro built singlespeed bike everyone else was either on gravel, mtb, fatbike or ebikes.
Having ridden this event last year and loved every bit of the trail it was definitely on the cards to do it again but this time the course would be completely different and none of the trails were the same as last year. The course took us out of Boltby and quickly onto a grassy trail where the mountain bike would excel. I was near the front pack riding my own race. There were obviously more gravel bikes than mountain bikes as it is marketed as a gravel race but, nevertheless, the route was very mountain bike friendly especially the second half of the event. Jason, Kev and Mitch quickly passed me but I was happy enough to ride on my own taking in the scenery of the amazing North Yorkshire Moors. Soon after the grassy trails we were thrown out onto Cleveland Way that lends itself to a gravel bike but on the singlespeed it was hard work, especially with the headwind that seemed to be the main feature for the rest of the ride. I felt great and was riding steady until I heard a vibrating noise from the back wheel. As I stopped I discovered that the rotor had dislodged from the max disc holding it in place. The only thing that would tighten this was a special tool, that unfortunately I didn't have so I had to improvise and finger tightened this every 15 minutes until I reached the only pit stop. Once there the "mechanic" didn't have the right tool either so he used some good old-fashioned pliers to tighten the max disc, which worked a treat and held it in place for the rest of the ride. Who needs high tech tools!!!!!!
The climb out of the feed station was a tarmac hilly affair that had me digging deep on my singlespeed. Fortunately it didn't last too long but we were then onto some off road rubble which seemed to have me digging even deeper and losing traction which had me pushing and saving energy for the rest of the ride.
So far the Yorkshire True Grit event hadn't failed to impress and even though as I have previously mentioned it's billed as a gravel ride, I think probably the first half would just about qualify however, the second part of this event lent itself more to mountain bikes as it had the technical descents, the narrow jungle singletrack (that had you covered in nettle stings), the hike a bike and the fast sandy descents that every cyclist must love no matter what bike you ride.
As we approached the final 2km of grassy trails I tried to ride hard but there was nothing left in the legs. I coasted to the finish line at 3.30pm after setting off at 8.30am and getting lost along the way after the stepping-stones. It was a great result for me and I was happy with my effort and I actually wasn't that far behind Mitch and Kev and more importantly the geared gravel riders. 
For me it was a test of my endurance riding singlespeed on my much loved Salsa El Mariachi 32-17t especially as last year I had tackled it on my fatbike so who knows what 2018 will bring. True Grit should be on your bucket list of events as it's a test of endurance, skill and mental strength to get you to the finish line. The North Yorkshire Moors scenery is stunning and the dry weather we have had this Summer made for some super fast trails, although you would not have thought that early on in the ride when everyone got a taste of cow and sheep poo.
Many thanks go to the organisers and all of the fabulous riders who make the True Grit event a fabulous one to be part of.
Kit used
Salsa El Mariachi Singlespeed 32-17t
Wheels Carbon: SramRise 29er
Tyres: Vitorria Mezcal
Jones Bars
Shimano XTR brakes
JMC endurance just so comfy these bibs
Five Ten Clipped Kestral shoes
DT Swiss rear hub
Mileage: 100km 6,800 feet