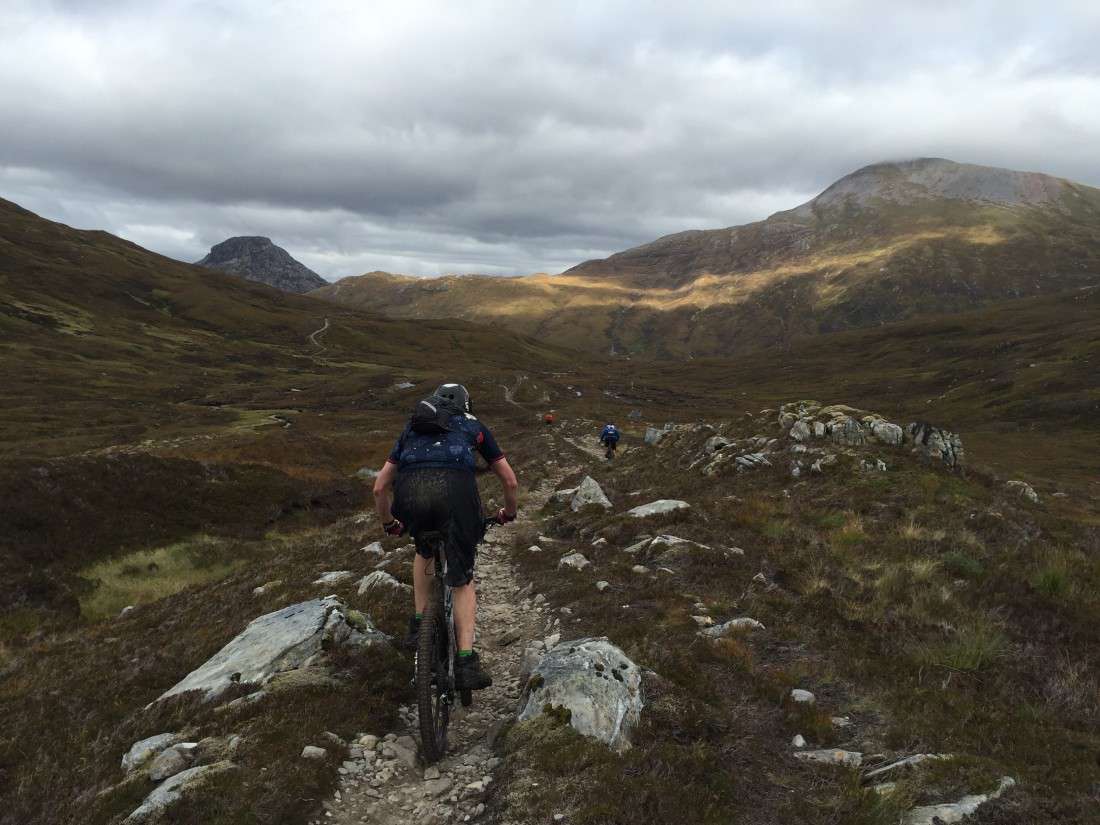 Tour De Ben Nevis 2015 with NoFuss Events
A MILLION MIDGES, A MAD IRISH WOMAN, BROKE BACK BADURA AND AN INDIAN/YORKSHIREMAN RIDING               SINGLE SPEED….
This would be my 4th consecutive time doing this fabulous event in the fantastic Scottish Highlands, only now I would be helping one of my best friends to conquer the Tour De Ben Nevis…
This event began by me discovering that we had not been booked into our usual Bed and Breakfast. Norrie from Berkley House had forgotten to book us in. He made a few calls and rang me back saying he had found us a place to stay. Relieved at this news we headed for our home for the weekend. If you have ever booked last minute you might have stayed at No.21 Alma Road where a rather amusing old Irish lady runs a sort of B&B.
Race Day
Excited mountain bikers filled Fort William High Street. Everybody was eyeing up each other and their bikes. This year I was riding the event on my Salsa Mariachi Hardtail Single Speed (30-18t), as I do like to make things as difficult as possible and having done it once on a rigid and again on a full suspension my next challenge would be on a Single Speed. My fellow riders gave me a look of respect and clearly thought I was mad.
The morning air was fresh with some cloud and as the sound of bagpipes led us out, we followed the motorbikes for ½ mile until the road climb quickly separated the riders out. I found my momentum on my Single Speed and was going well up the climbs. As I reached the top, I remembered that I was riding this with my pal Rob so I waited patiently for him whilst watching the riders pass me by occasionally giving me a look of kudos for me riding the Single Speed.
Rob finally got to the top of the first climb where he had a breather. We plodded on with the realisation that this was going to be a long day in the saddle.
The route would take us along the West Highland Way to Kinlochleven, the first timed descent, where if you decide to ride the drainage channels you will end up having a puncture. I had already mentioned this to Rob but my pal decided to ride them and no surprise he ended up with a puncture. We lost over 30 minutes riding time sorting his tyre out. Moral of this tale, if you cant clear the channels, walk it.
The midges were out in full force at the bottom of Kinlochleven as I waited for Rob and then waited some more as he changed his tube.
The climb up to the estate is fairly steep especially on the Single Speed but I managed to get to the first feed station and both of us re-fuelled. There were riders that had retired here and were in the back of the van either through injury, mechanical fault or the Tour De Ben Nevis had got the better of them after 12 miles.
The climb out on a land rover track would be tricky in places as it was fairly rocky and you need enough momentum to keep you going otherwise you would end up wheel spinning and pushing. I kept going and waited for Rob at the top where the views down to Kinlochleven are amazing.
.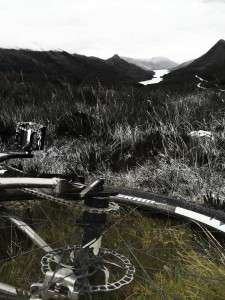 We rode steady stopping now and then to take in the views as the weather had held up bearing in mind that the West of Scotland had had a lousy summer.
Just before the river crossing, there was another much welcome feed station where we would re-fuel. Rob was ready for a good break but I needed to keep him going in order that we didn't get timed out, as the hardest part of the event was about to come.
'Hike a Bike'
For those who haven't done this, it is a case of getting your head down and carrying or pushing your bike over the Mamore Hills to get to the bothy, where a barbeque would be waiting for you. This is one long slog that goes on and on and on…….
The descent down to the bothy is a good one though and seeing the smoke from the BBQ makes it even better. Unfortunately this year there were no Veggie Burgers. I was gutted, as I was looking forward to some grub as being in the saddle for over 5 hours had made me hungry. Rob reached the bothy looking broken and ready for his burger. Thoughts of jumping in the van and calling the ride in must have crossed his mind for a few minutes, as the thought of another 15 miles to the finish line were not nice ones.
We rested a while and then headed off. From what I could remember from last year most of it would be down hill however, the course had slightly changed and there was a fairly big climb on a fire-road that Rob had done in June at the 10 Under The Ben event. He remembered it well, but wasn't impressed they had thrown this in at the end so he was off pushing.
The final descent on the 10 Under The Ben course is brilliant and can be tricky when you are tired. We reached the final timed out section and were close to being timed out, as the last 10 miles for my pal had been hell. Fortunately he had the determination and after some nagging from me we made it to the finish line in 7 hours 24 minutes injury free.
This was a brilliant achievement by Rob who doesn't get out as much as he'd like to but had always wanted to ride the Tour De Ben Nevis. For me it was a great day out on the Single Speed with great company and plenty of laughs along the way but I'm not sure I would ride at that pace again.
Next year will hopefully be on a Fat Bike as I reet fancy one of them
A big thanks to nofussevents.co.uk and all the marshals on the day for a brilliant and well organised event.
40 miles 5,300 feet of elevation.
Kit used:
Salsa El Mariachi Hardtail Ti
Single Speed 30-18t
SRAM Rise Wheels Carbon
Purgatory Tyres 2.3 running tubes (no punctures 40psi)
Nitro Flat Pedals
Five Ten low cut shoes
XTR Brakes