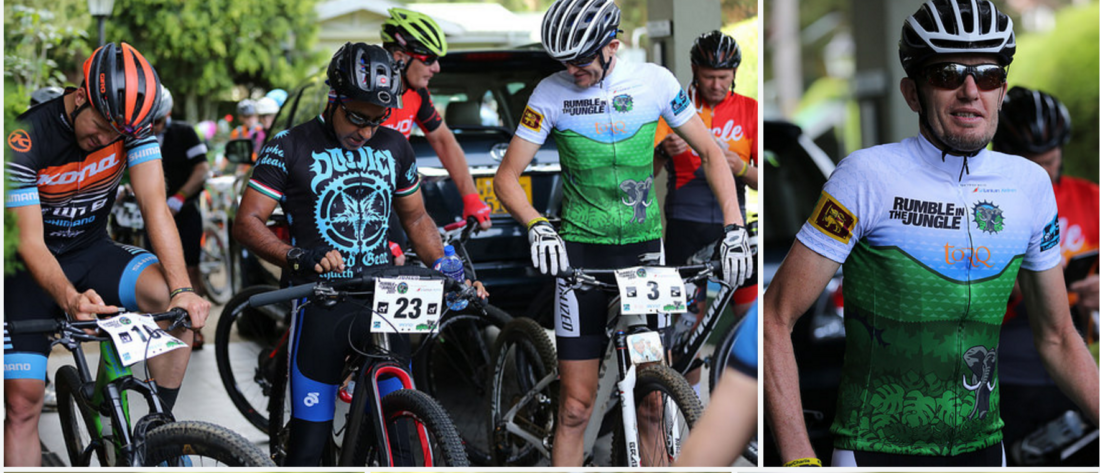 To endure what is unendurable is true endurance
Rumble in The Jungle Sri Lanka 4 Day Stage Race 2017
'It's always better the second time round'
The Sri Lankan air was warm, there was hardly a breeze – the blue skies and picturesque villages from the final climb on stage 4 looked like an artists drawing. I was near the end of an incredible 4 day stage race in one of the most beautiful countries in the world. I often pinch myself and think how did I get here an average mountain biker who isn't fast but loves riding his bike.
The journey this time to London was a straightforward affair no mishaps, no delays no dramas. My friend Matty and his friend Marcos would be joining me on our second trip to Sri Lanka for the annual 4 day bike race "Rumble In The Jungle" 180 miles and 32,000 feet of climbing or 290km and 10,000metres of climbing. 
The plane touched down at 13:00 hours on Saturday and we disembarked with the heat whacking you in the face like you have just opened the oven door having baked a pizza. Yep it was hot, temperatures above +35c would be the norm for the next few days.
We collected our bikes and headed for the Catamaran Beach Hotel where we would assemble them, but this time this would be done in the air-conditioned rooms and not as last year outside in the boiling heat. As we assembled our bikes everything seemed fine until I discovered that the SRAM EAGLE rear mech wasn't springing back therefore the chain remained slack. Obviously me being a "top mechanic" I didn't have a bloody clue so went looking for assistance with a very big stride and a worried look. Phil Evans the brainchild behind "RITJ" had a quick look but gave up as quickly as I had. Albert Kistra, top endurance rider also did the same when suddenly a small fellow with a spring in his step asked me what was wrong. I filled him in with the details and he skipped his lunch and got stuck in to sort out the issue. Within seconds the bike was upside down, chain split, spring removed from the rear mech and reset. The tension returned straight away and the bike was back to normal the little guys name was Neil "fixit" Cottam, what a legend!!!!!
Sunday was an easy start and time to give the legs a spin, which would mean me; Matty, Albert, Claire, Hero and Derrick would head out towards the lagoon for a gentle 15 mile coastal ride. We would chitchat along the route and a roadside café stop was on the cards. A coke was consumed as we were all starting to sweat and we hadn't even started to race.
Monday would be our 5-hour bus journey to Kuda Oya where we would sleep overnight at the Wild Safari Hotel with cockroaches and along with power cuts this was not great prep for the race in the morning. A team briefing that evening from Neil and Phil was an informative chat explaining the order of the day tomorrow.
Tuesday – Ride Hard but remember it's a stage race.
Kuda Oya in the south of the island would be our starting point where all the riders were doing last minute "faffing" and interviews for the camera production team of Lynch, Walton and Chambers. I was pretty much sorted after a last minute dash to the loo. Nerves, I don't think so or then again maybe it was, as I knew what was coming!!!! I was at the front with Nick Craig olympian, national champion and bloody handy on a bike – I joked with him saying it would be the one and only time I would be neck and neck with him. The start was controlled along the road for 3km and then turned into sandy tracks and the officials waved their flags so the fast guys were off like a shot. I needed to keep a steady pace as the temperature would be approaching 39c with over 80% Humidity today and the last thing I needed was to overheat. The sandy tracks soon turned into jungle where things really started to heat up. My aim was to keep my body temperature under control. As we raced through the jungle a fellow rider threw his bike to one side and led on the ground the heat had got the better of him and he needed some shade – I continued with my bike now on my shoulder climbing over a fallen tree. The sweat was pouring down my face and I needed more hydration so I drank as much as I possibly could. We were riding as a bunch through the jungle as I don't think anyone really wanted to get lost but the GPX file was telling me I was on course so I kept up with Claire, Stephen, Maureen and Roel. We left the jungle and the climbing had started. I needed more fluid but the next water stop wasn't until 42km so I needed to control my pace and not get carried away. The descent to the water stop was where I needed to be so I hammered down and just avoided the truck coming the other way as my rear wheel skidded and I nearly lost control. I reached the water stop and filled up with water and Torq energy drink and had a quick chat with the LSR team. The climbs just kept on coming so I needed to deploy the Eagle 50T and spin a while. The hills got steeper, I got hotter and my heart was beating faster. One of the marshals told me that Matty was five minutes in front so I was now looking out for him. Within a minute I spotted that Matty was off his bike and feeling the heat and was not looking well. Unfortunately he was suffering from Heatstroke but he had to make it to the next water stop to rehydrate and rest. I rode towards the next water stop and bumped into Derrick who was hanging over his handlebars feeling the heat having gone out too hard. Eion was further along feeling the pain on Day One. I waited for the squad at the next water stop and after 10-15 minutes Matty arrived with Roel. Both were ready to quit/DNF so I went into motivational speaker mode and also poured water over Matty to cool him down, as he knew what was to come, probably the toughest part of the ride called Cramp Hill. I encouraged Matty to get on his bike and not give up as to DNF now would be a huge regret when you wake up tomorrow. Keep moving, small turns of the pedal and push if you need to. I continued my journey and was climbing steadily until the off-road rocky rubble began to sap my energy. I decided to push the bike whilst the local school kids kept me company. Matty wasn't too far behind as I shouted to him to keep moving. We rode the last 20km together up and down knowing that I couldn't leave my friend out on his own as he had suffered heatstroke. We moved at a slow pace until the finish just before 4pm.
47 miles and 9,241 feet
Stage 2 – Snoring and more snoring – I'm in the middle of it and it's surround sound at its very best from Marcos and Matty.
It's a horrendous night sleep – I'm feeling tired and it's going to be a full day of mountain biking with some rocky descents so I fill up on breakfast eggs, bananas and toast. I'm focused on just finishing today. The first bit is a controlled start in preparation for the official start. We were waved off and the pace was incredibly quick. I saw Nick Craig fly past me and all the others in order to get into pole position alongside Cory Wallace. The route was classic mountain bike trails with probably one of the best-staged loops in the world as it has everything. Every ounce of my energy was required as I felt as if I was already in reserve mode. I was spinning up climbs that I should have been powering up having spent a considerable amount of time singlespeeding this winter. I rode with Shanith for a while until he got his second wind and dropped me- Roel who didn't finish Stage one also passed me – I really was having a crap day. Roel punctured further down the course, which gave me a chance to catch him and get slightly ahead. Roel caught me up and we rode the fabulous course together towards the end – the track was smooth and flowing with the occasional techy bit. I was glad to see the finish line so Roel and I crossed the line together – I was empty.
36 miles 8,546 feet of climbing
Stage 3 – The last night and I decided to share a room with a non-snorer, Ivan Brown, local chap who lives and works in Sri Lanka – My head hit the pillow and I was out like a light not waking until 6am feeling well rested and ready for Stage 3.
The biggest and best climb in the world is on stage 3. An off-road concrete trail then a rocky 10 mile 5,000 feet climb from Kalupahana to Horton Plains would see me start at a steady pace then climb like a man possessed. I felt great today having had a good nights sleep so was pleased with my effort. I caught up to a group of riders in front of me Eion, Claire and Matty and led the way to the top. This climb had been much easier than last year as the 60mph winds had not materialised so the newbies didn't experience the climb at its worst. A kick up to Horton Plains and then some fast singletrack down to the nearest village only to climb back up a land rover track. I was still feeling great and was leading the pack of riders that were behind me. Unfortunately I now needed to "P" so I started to lose ground and tire too. Matty had now overtaken me but Eion and Claire were still behind and feeling the pain of the big climb earlier on in the day. Me I just can't stop weeing grrrrrrr!!!!!!!
I was riding some amazing singletrack but couldn't see anyone in front or behind me. I was now on my own until the descent down to New Zealand Farm where Lynch was waiting with his camera for the perfect shot. The descent was fast and I was going hard to hopefully keep in with a good time for stage 3, until it took an unexpected right turn up a very steep climb with a gradient of over 30% in places. I saw Usha in front who was pushing and she told me that Matty wasn't that far in front so I began the chase hoping to catch him. I reached the road and a picturesque setting of a lake and a hotel greeted me. I rode hard to the finish line 5 minutes after Matty. I was happy after Day 3.
50 miles and 9,845 feet of climbing
Stage 4 – Final Day, Final Climb, Final Ride
Another sleepless night but nothing I'm not used to. Another controlled start of over 20km downhill to the tea plantation ready for the final line up. A ten second countdown by Phil and the riders were off.   The fast ones disappeared whilst the others climbed steadily to 2,000 feet. The views were awesome so I stopped and took a picture as the chances of me getting a top 20 place after stage 1 and 2 average time wasn't on the cards. I stopped at a corner and the kids urged me on but I stopped and said hello and shared my oat bar with them. This gave them a big smile and me a happy heart. This was what racing a bike was about for me, having fun and seeing other people enjoying it. So I enjoyed the moment and am thankful for what I was able to do. My next stop was a villager with her children who came running up to me to ask me my name. I stopped immediately and started to chat to them. I reached into my pocket for some sweets but found that I only had some rupees left so it's my gesture to them for their support and smiles. I knew I couldn't keep stopping otherwise I would never have got to Kandy so I started to pedal hard and I caught up with Meg who is steady down the descents. The downhills are really lumpy and after 3 days of hardtail action a full suss would have gone down much better today.
I heard a voice behind me and it was Neil "Fixit" Cottam and he is all things "Yakattack".
We rode and raced together then the rain poured down. My emotions were full of joy as I remembered far too well how I had struggled on the fatbike last year but had achieved the impossible. Shanith, a local Sri Lankan rider, passed me on a downhill at break neck speed but was always in control. I think………..
Meanwhile the rain was monsoon style. I stopped to put on my JMC gillet and then caught up again with Neil. We approached the tree-lined University at Kandy and sprinted for the finish line. A completely different race from last year which was all about survival on the fatbike this time I went into the race wanting to improve my time and see how far the body and legs would go. 
I know there were stages in the race where I could have done better and much more sleep would have made me stronger on Stages 1 and 2. So I managed to pick up plenty of advice from Nick Craig and Albert Kistra, which I will take with me to the next Rumble In The Jungle in 2018 and hopefully improve on my time of 23hrs 50 minutes.
So a big thank you goes to all the racers that took part, Pam who never stopped believing and her partner Alfredo who gave up his Top 10 position to help Pam complete the challenge of a lifetime. I'm sure Alfredo will be back to "kick ass".
Roel Joling who lives and rides in Holland and was probably surprised by the hills in Sri Lanka and kept me company on stage 2.
Albert Kistra who has so much knowledge of all things mountain biking and will probably be a pro rider in the next life.
Marcos and Matty for being great company along the way.
Claire, for being a strong and determined rider that culminated in her winning a stage.
Eion for being Eion.
Derrick who just kept on going and beat me by 20 seconds.
Nick Craig for the mtb advice.
Akshit aka "Hero" a 17 year old travelling from Shimla on his own to compete in his first stage race and finished 10th.
The film crew and Phil for the support the laughs and the photo credits.
Phil Evans, Ajay, LSR, Sri Lankan Holidays, Sri Lankan Airlines and Neil Cottam who fixed my bike and got me going otherwise I might not have even started.
Rumble In The Jungle is a tough 4 day stage race with the heat at 39c and 80% Humidity and tough terrain it saps all your energy.  It's under tyre where all the action never stops giving. A jungle that you can't lose focus on otherwise you will lose your way. There are tea plantations that you can ride superfast through whilst trying not to crash. Rocky Mountain climbs that have you gasping for breath. Tree lined descents that leave you wanting more.
Having spoken to several racers who have raced all over the world, they reckon that day for day Rumble In The Jungle is one of the toughest races out there.
40 riders entered the race and 6 DNF that just about says it all…never underestimate the Rumble In The Jungle!
KIT AND BIKE USED
Van Nicolas Zion 29er Ti
Fulcrum Rims – Tubes
Tyres- Slaughter front and Renegade Rear
Jones Bars and Jones Bar Bag
Sram Eagle 32-50t
Shimano XTR Brakes
Kit Worn
JMC cycling endurance bibs –so comfy
Alpkit – Cycling bibs
Alpkit- Jersey
Forks Bike Shop- Jersey
Kestrel five Tens
Bike Bag from Pedalsports Halifax
Photos by Phillip Stasiw and Mountain Bike Wales