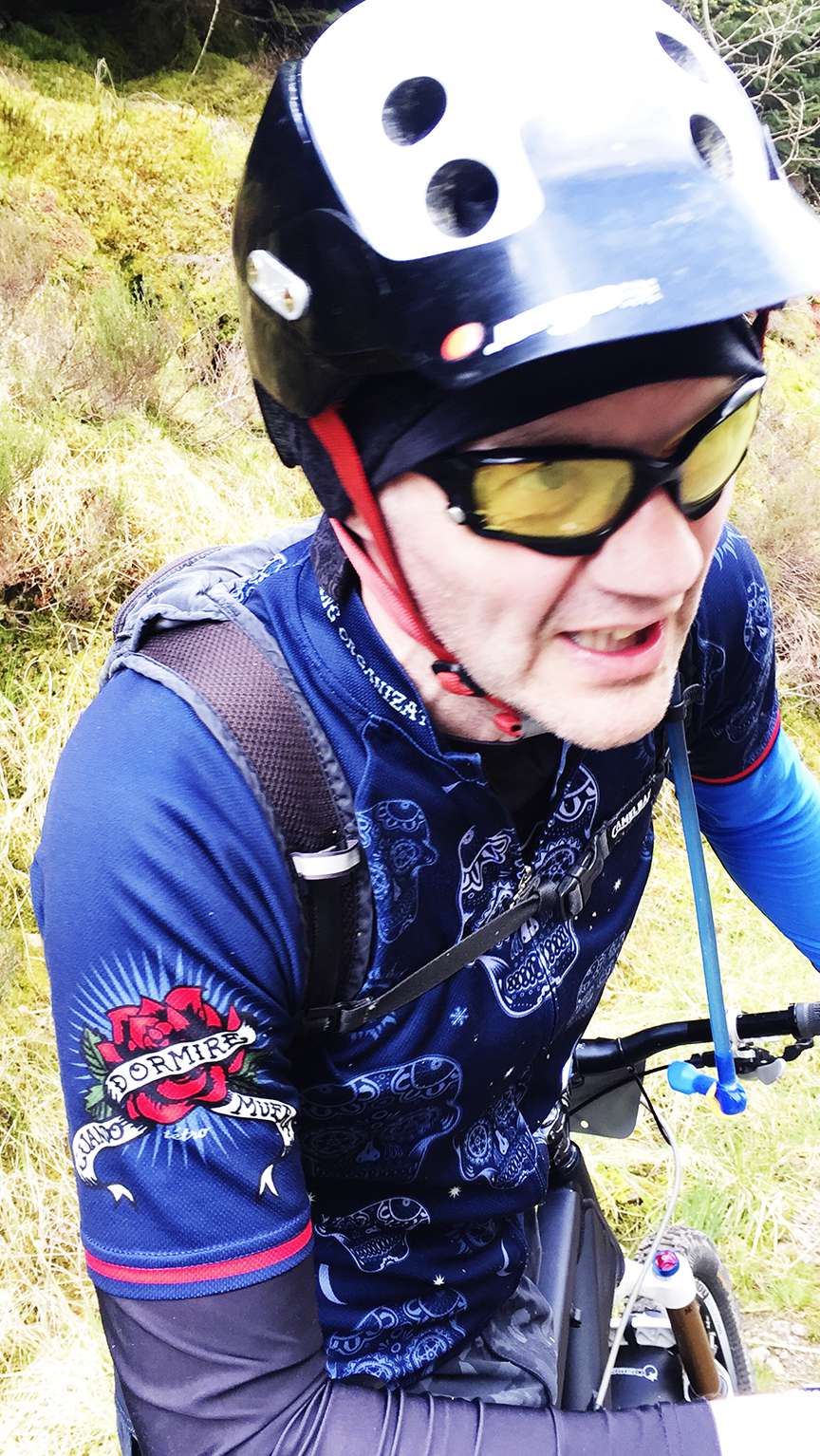 10UnderTheBen
Practice makes perfect – 10 Under The Ben
After the Dirty Reiver and 200km of Gravel I was ready for some real mtb action so the following week I would be travelling to Fort William to challenge myself and improve on my previous attempts at 10 Under The Ben.
This is basically a mountain bikers dream to ride/race a similar course to the relentless event, which pushes you very hard for 10 hours.
As the bagpipes played through the warm Scottish air I felt relaxed at the start – my friends Matti and Karl were eager to go and get a good position so they didn't get caught on The Big Climb.
Rob was looking nervous as hell as he hadn't been riding much this year other than spin classes but nevertheless the "lightweight" had plenty to offer.
As the motorbikes led us down to the Auction Mart the eager and impressive riders like Keith Forsythe and Mike Hancock were ready to explode.
As the motorbikes gave way, the fast riders were off and ready to make a challenge for the title.
My thoughts were to get round injury free and to clear all the technical bits without dabbing or falling off.
I'd promised Rob I'd ride the first lap with him and chitchat around the course so I waited for him at the top of the first climb 'TheBigUp'. This is a toughie when you are on your first lap never mind your sixth. It's the short, sharp, steep bit towards the end that catches most people out.
The edited shortened video at the bottom shows several riders coming past until I see Rob.
The rest of the lap consisted of gravel, single-track, wooden planks, rock garden and fast swoopy sections.
As we completed the first lap together – we were ready for another until Rob decided to sit it out so I rode on – which now would be a full lap taking in the small river crossing. The approach to this in previous years was always a right hand turn into the drop off but I had noticed that some rocks had been laid down so you could roll onto them. As I approached the drop into the river I'd noticed the rocks had dislodged and it was back to being a drop off – after my skills session with Singlespeed King Saul Muldoon I remembered to sit back and let the bike roll which is what happened and I cleared it no problem not sure what all the fuss is about haha!!!!
My energy levels felt great and riding the Salsa Spearfish is a dream. Full suspension with the super smooth RS1 forks. The bike was performing as was the rider clearing the drop offs and not flapping at anything out of my comfort zone. "Let the bike roll" these words were repeating in my head like a stuck needle on a record player. Lap 3 and a stop at the pits was required as fueling is the most important part of the endurance ride as living off gels just doesn't do it for me and having that sickly feeling of sugar overload is awful. A packet of salmon and lentil/rice was good enough for me and within 10 minutes I was riding again. Going steady and not too hard I wondered what was possible. 4th lap done and focusing on the 5th – chatting to my fellow riders was great, the love we share for mountain biking in the Scottish highlands is without doubt the best a cyclist could wish for.
Your bike, your thoughts and your ride.
Lap 5 completed and now heading for Lap 6 and new territory, as I had never done anymore than 4 laps before so I was happy to have improved on previous challenges. As I started lap 6, Keith Forsythe passed me shouting "don't forget to fuel" – I wasn't doing too bad on the fueling – energy felt good and no bonking in sight.
As I was returning I could hear a voice shout out, Matti was catching me so we rode in to our pit stop together to have a break. Matti is my good friend from the Isle of Man who I had met on The Crossing a few years ago and we did rumble in the jungle in Sri Lanka, which is a 4 day stage race.
Rob and Karl were at the pit stop and Rob looked like he'd had enough. Rob had managed 3 laps so he was happy with that, as each lap is 10 miles and 1,400 feet of climbing.
Karl was having a break so we decided to have 5 minutes and then finish what would be our last lap together. We rode out enjoying each other's company and having a laugh in the process. Legs were tired and we were hungry but still loving the fabulous singletrack and fast sections of the course.
As I approached the finish line I handed my dibber to Spooks and for a minute was tempted to do another lap as it was only 6.15pm and the last lap start time is 7.30pm but I couldn't keep Rob waiting any longer and we had a table booked at Cafe Mango in Fort William.
So after 6 laps 60 miles and 8,000 feet of climbing that was me done until next year where I would like to improve on that again.
With over 600 riders that had entered and 160 solo at times it felt like you were the only one out there as legs get tired as the day goes by.
Keith and Mike had both achieved Podium places and Keith had won his category so it was happy days.
This was a great training ride for me and really helped with my next adventure in Sri Lanka, which I will be racing again in June but not on a fatbike!
Keep on riding
Kit Used/Worn
JMC bib shorts- super comfy no bum cream required
Forks Bike Shop –Cycling Jersey
Scott cycling shoes (flats)
Salsa Spearfish Full Suss
SRAM Rise90 Carbon wheel set
Tyres – Slaughter Specialized
RS1 Forks
XX1 Eagle 32-50t
XTR Brakes
Flat Pedals
Jones Bars
Wildcat bar bag
Food consumed
John West -Wild Salmon with lentils
A couple of Gels, Peanuts, Jaffa Cakes, Oats Bar and Swedish Fish